5 Tips to Enhance the Effectiveness of Your Trade Show Booth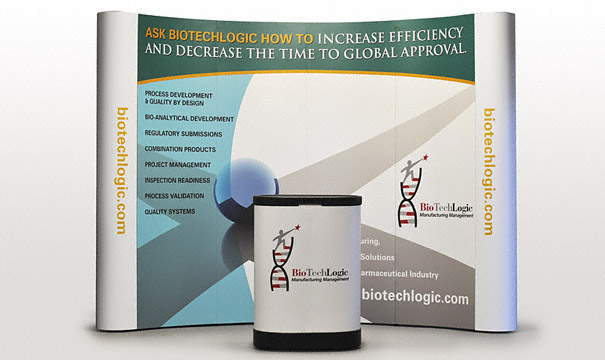 Creating a memorable and engaging trade show booth as a marketing platform can greatly increase customer reach by using simplistic designs that are easy to implement and manage. To enhance the effectiveness of your trade show display, it is a good practice to choose a style that is not only attractive, but mobile and clearly aligns with your overall business purposes while appealing to your target customer base.
Know Trade Show Basics
Trade shows are an excellent way to market services and increase visibility with the many different types that tailor to specific markets, industries, and products. To gain the best marketing advantage from participating in various trade shows, be sure that it will fit your organizational needs and marketing goals.
Trade show participation normally requires fees so you want to be sure that you select the appropriate type of show for your business product including the location as well as considering the target audience.
Organizing Your Booth
Properly planning and organizing your trade show exhibit will ensure that you get the most out of your overall marketing efforts. Depending on your display type, you should be able to produce a presentable exhibit design that will ultimately increase customer interaction. An exhibit which displays a highly professional message, appropriate artwork, design, and other related accessories are the key to properly organizing trade show booths.
Attracting Customers
Trade show booths are like stand-alone advertising vehicles that should appeal to your target audience. If you want to consistently reach existing and prospective customers during the trade show be sure to give them a reason to stop by your booth. Aside from a presentable display, you should also think of ways to drive traffic to your booth. This can include different incentives including promotional giveaways and interactive activities designed for trade show attendees.
A Competitive Edge
When it is time to showcase your products and services at a trade show, you need to be prepared for competition. In addition to the possibility of a bad display location, you may also have to contend with several competitors with similar product offerings. This is very common at industry trade shows and even those with mixed vendor participants.
This issue can be easily resolved by clearly communicating any location preferences prior to signing up for the trade show. To make sure every business has the best experience with the most appropriate customer interactions, trade show managers are usually willing to make changes for participants. However, in the event, this is not possible; you can easily turn this into an advantage by making sure your exhibit booth is appealing in the most relevant ways including interactive display attractions as well as highly engaging staff members.
Staff Management
The personnel you choose to manage your trade show booth is just as important as how you present and exhibit your overall display. As this is primarily a marketing function, which uses sales and advertising techniques, it is a good idea to assign staff members who are qualified in presenting materials in a fast-paced trade show environment. Effective communication is essential and staff will need to be able to quickly engage prospective customers who are anxious to get to the next exhibit to check out other offerings.
Ultimately, for trade show success, the key components to enhance your exhibit display include organizing your booth to ensure it will appeal to a trade show audience, targeting the right customers, and standing out among competitors. Once you decide on your final trade show display type, you will then need to ensure you are able to produce it in a timely fashion by allotting enough time prior to each trade show for preparation. Finally, to aid in choosing the right trade show for your business be sure to familiarize yourself with the types of exhibit displays, key industry events, entry fees, as well as the logistics of producing a top-notch trade show booth.
Chicago Trade Show Displays
Call Us Today! (312) 455-2201