Christmas Trade Show Display Ideas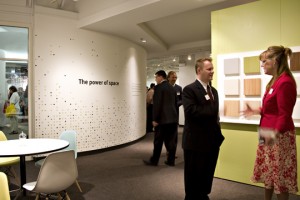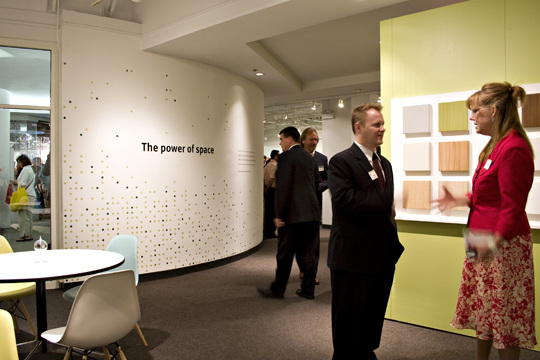 Regular trade shows require a strong design sense to stand out from similar company booths in the exhibit hall. The holiday season escalates this requirement. You not only have to capture the attention of people with your service and product offerings, but you also have to convincingly keep them in the holiday mood. It is not always easy. Too much decor is overwhelming and a turn-off, and too little decor gives the impression that you are curmudgeonly and hard-nosed.

Fortunately, there are some good practices that can help you have a successful holiday trade show and win over your visitors. A couple of these ideas can be applied year-round, not just at Christmas. Tailor these to fit the philosophies and needs of your company, and you will create a trade show experience that everyone will remember.
Using a Single Color
The best trade show displaysavoid all the bells and whistles. It makes your booth look cluttered and uninviting, and it forces trade show visitors to figure out exactly what you are offering in terms of a product or service. Simple single-color lights and decorations are a great way to stand out in a sea of booth cubicles where everyone is doing something dazzling to get everyone's attention. Choose colors that move away from the traditional red and white. Blue and purple are great alternatives for a memorable burst of color. Accentuate with silver and your booth will stand out for its calm and sophisticated approach to Christmas.
Move Beyond the Display Tables
A majority of the attention in a display booth goes to the table. It is the centerpiece that holds the merchandise, informative pamphlets, or any promotional trinkets for visitors. The ceiling and floor spaces often are ignored in the decoration plan. Use clear string to hand paper snowflakes or origami ornaments in the space above your booth. Drape icicles neatly at the top of the booth walls to give a wintry effect.

It is a great idea to use the floor to make visitors feel as if they have been transported to an entirely different space than the exhibit hall. Modular interlocking foam flooring cushions the booth space and makes it a more comfortable place to pitch new services and products. Place art that relates to both the holiday and your products on those foam squares. If the art is Santa dragging a bulging bag of gifts, make the bulge spill over the flooring and make the gifts things that can be purchases from your company.
Make Yourself Part of the Decorations
The expectation of most people at a trade booth is to see a company representative in a suit. What if you wore clothing that blends in with the decor colors in your booth? Santa hats are popular and simple ways to foster holiday spirit without going overboard. Those hats, however, do not always have to be red with white fur trim. Make more sophisticated hats in alternative colors, or switch the hat expectation altogether and wear an elf hat.
Ornaments, Wreaths, and Pillows
Although it is labor intensive to set up a traditional Christmas tree in a trade booth, honoring this holiday tradition on a small scale is quite manageable. Miniature Christmas trees with takeaway ornaments offer exhibitors a great way to keep the cheer spreading long after the trade show is over. Colored elastic threaded with beads onto a piece of bendable craft wire can be made into miniature Christmas trees for ornaments. This is a gift some visitors will keep for years.

If you use pillows, either propped against the ends of tables on the floor or bolstered to hold products on the table, make them a neutral color. You can use stencils to add words, slogans or marketing messages to the pillows. Make sure the text of most of the words are an equally neutral contrasting color and the words that are most connected to your message stand out in a bold color.

Unless there is going to be one huge decorative wreath on the exhibit walls surrounding the booth, keep them small or moderately sized. You do not want them to upstage your products or other booth decor. The best holiday wreaths are made from greenery with a couple of simple small bows or ribbons. They could also be spray painted with your company name or logo.
Use Pictures
One of the things that makes the holidays such a strong connection for many people is the family and friends. The trade show might be a chance for you to show the public the real faces behind your company. Do not overwhelm your booth with large photo collages or pictures that seem to just dangle unconnected to anything, but find a few very captivating shots to place in a prominent place in the booth. Seeing real faces makes exchanges between customers and companies feel much less distant.