How to build a trade show booth?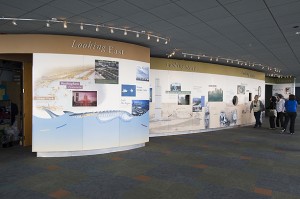 So you have been tasked with building a booth for the trade show this spring? Aside from the fact that is has to be done, what exactly will you have on display? Well time is money; at least that's what your supervisor says, so lets' take a look at the basics for why we are building this display and what we need to get it up and running on time.
What is the objective?
Business basics don't change no matter what the project or product. The first determination for booth design and build is: "Are we trying sell something right now? Are we trying to direct our audience to a specific place where they can buy? Or are we simply trying to inform them of the product's presence or pending presence on the market?"
Who is our Audience?
Who are we talking to? Since most display booths are in a setting where visitors are there for specific reasons, our booth should be designed to draw that audience specifically to our space and encourage them to share that experience with others on the convention or design room floor. Those indirect ambassadors may not have a direct interest in our product, but more often are willing to spread the word about our exhibit to others.
What's the budget for your trade show booth?
How much do I have to spend? The discussion on budget is often the last item on the list. It should come right after the determination of what kind of exhibit it will be and what will be on display. Clearly the budget can dictate the size and scope of the display. But it need not be a hindrance to achieving the objectives. By placing the budget in the top three questions to be answered in booth design and construction, you can proceed in a much more orderly fashion in getting the job done and done on time.
What can we use to grab attention?
A simple graphic, even hand drawn, layout of what the exhibit should look like is an essential first step. Fill in the blanks with the following questions:
1. What are the dimensions of our display? This is a crucial design question. Know the dimensions of your display area. Its' wise to consult with one of the hundreds of display companies available or simply attend a "Home and Patio" show near you to get a feel for what is being used to grab audience attention and keep it.
2. Will this be a universal display or just a onetime event? If it's a one-time event that will afford you unlimited exhibit space, your major requirement will be to fill that space. Designing and constructing a universal display that contains specific products from your company or organization is the way to go. Keep the dimensions of standard height and width with only enough depth to contain the "live" presenter(s) and the product(s).
3. How will we transport the display to the event? A small thing with big ramifications. Plan on getting the display to the event safely. Even if the event is two floors below your office, if that plexi- glass display gets cracked on way the down: "Houston, we've got a problem." Plan your transportation.
Utilizing "live" performers or a "live" spokesperson is one of the best attention grabbers for your booth. People respond to people. It is just that simple. Make sure your booth has promotional material to give away. The detailed brochures are good, but believe it or not, the ink pen with your company logo, name, and phone number is the gift that keeps on giving.
Encourage your booth visitors to use a sign-in or sign-up sheet for a special give away. This will get email addresses and physical addresses of visitors to your booth. It's a great direct mail or e-marketing tool, not to mention that fact that it is clear proof of who actually visited your booth and who was interacted with.