How to Improve Your Showroom Graphics?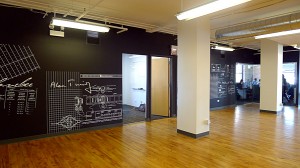 When you host an event and want to attract potential customers or clients, beautiful showroom graphics can be exactly the hook you need. The better your showroom graphics look, the more clients you will attract. However, if your showroom graphics don't look bold and beautiful, you will not be able to convert potential customers into long term clients. This is why you must focus on improving the visual appeal of your showroom graphics. When a client or business associate sees your graphic, they will want to know more about your business. You can improve your showroom graphics using the following tips –
Branding – The major purpose of your showroom graphic is to attract customers, clients and business associates. Thus, the color scheme and theme of the graphic would depend on the type of crowd you are catering to. Try to incorporate your brand into the showroom graphic so that it looks smooth and effortless. Whenever people see that graphic, they will immediately associate it with your company and it will help in brand building. You can also add a logo of your company or the website you represent on your showroom graphic.
Professional Formatting and Size – Showroom graphics might look simple and easy but a lot of technicalities go into creating them. The right size for the right situation is absolutely important for the showroom graphic to work like it's supposed to. Always keep the size of your showroom graphic in mind when you decide to print it. The formatting should be well balanced with the size and the font should be professional and creative, depending upon your requirements. Always choose a professional designer for creating your showroom graphic, otherwise you could end up choosing the wrong size. This would result in your graphic being stretched or pixelated, ruining the event.
Plan and Visualize – The professional designer is not a magician who will know what you want. They can guide you and give you tips but ultimately, you can only take their advice because the plan for your graphic rests with you. In order to ensure that all elements are as per your requirements and communication with the professional designer is perfect, draw out your ideas on a piece of paper. Getting a visual of the final result will help both you and the professional to work towards a splendid creation. Keep in mind the crowd you want to attract, the purpose of the showroom graphic, and the message you want it to send.
Research and Get Inspired – The best showroom graphics in the business are simple and clear in their goals. They know what they want and aim for exactly that. In order to get your inspiration for the perfect graphic, you can make use of various magazines of graphic designs. Attending events and keeping an eye on other people's showroom graphics also helps to get the creativity juices flowing. Closely examine the details and pressure points in every showroom graphic you come across and see what works for you. If you have a lot of ideas in your mind, simplify and organize, and go back to the previous step of visualizing and drawing the essentials out.
Active Involvement – Most professional graphic designers agree that their work is simplified and the results are better when their clients are actively involved in the creation of the graphic. Active involvement would also ensure that you get what you want and no time is wasted in reworks. If something is not appealing to you, you should feel comfortable telling that to the professional designer.
As a word of advice, listen to what the professional designer tells you about the latest trends and try to follow them.